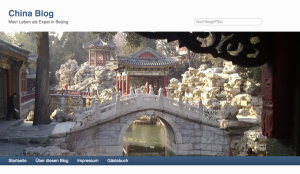 This site describes my life as an Expat in Beijing China.
I constantly post small articles about unusual things that happened to me, interesting things about the country, the people, tips for other emigrants and everything that is related to language, culture, food and beverages, life and work.
The articles can also be loaded as an RSS feed.
To each article there is a photo with metatags, so sou can see on a small map under each article where it was taken.
It is possible to post comments to the articles or you can subscribe to the guestbook.
On this site you can also see the current time for Germany and China and the weather forecast and a map for Beijing.