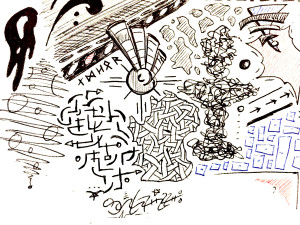 xcomix respectively comix or ex-comix is an alias that I use since I created comic strips in the very early days.
I kept the name as a graffiti artist and still used it when I started painting on canvas.
Today the name stands for all kinds of artworks from pictures, illustrations, collages, photos and CD covers over statuary art to some strange machinery that I have built.
Frankly saying there was not much time the last years to be also creative in this kind of way. But I hope the time will come again.
In the end there's always a time for everything and everything runs in circles.